Bauer TUUK Lightspeed Fusion Steel Runners Senior (Pr)

PRICE: $119.99

Free Shipping!

Lowest Price Guarantee
view large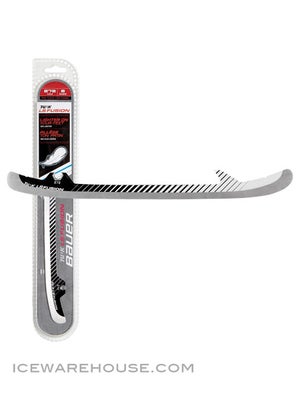 The Bauer Tuuk Lightspeed Fusion runner features a combination of steel and aluminum. This innovative construction reduces the weight by 27% versus a standard stainless steel runner. Weight at the extremities, like the runner, is the hardest weight to move for the body. Therefore, reducing this weight by 20-30 grams makes a big difference. At full extension during a skating stride taking just 1 gram out of the runner is equivalent to removing 4 grams from the boot! With the Tuuk LS Fusion runner's weight savings of 27%, the player will notice a difference in the skates weight and performance.
Model Number: 1033303
Holder Compatibility: Tuuk LightSpeed 2 (LS2)
Bauer General Sizing Guidelines


Size / Length / Compatible Skate Sizes


Sr. 6 / 254 / 6.0D-6.5D (5.5EE-6.0EE)
Sr. 7 / 263 / 7.0D-7.5D (6.5EE-7.0EE)
Sr. 8 / 272 / 8.0D-8.5D (7.5EE-8.0EE)
Sr. 9 / 280 / 9.0D-8.5D (8.5EE-9.0EE)
Sr. 10 / 288 / 10.0D-10.5D (9.5EE-10.0EE)
Sr. 11 / 296 / 11.0D-11.5D (10.5EE-11.0EE)
Sr. 12 / 306 / 12.0D (11.5EE-12.0EE)
Not for 2013 or new Bauer Skates that have Tuuk LightSpeed Edge Holders
27% lighter than standard stainless steel
Highest grades of stainless steel and aluminum fused together by epoxy and rivets
9 ft radius
These runners are sold in pairs
Same sharpen life as the standard runners
Senior sizes 6-12
Works with Tuuk LightSpeed 2 (LS2) Holders, NOT "LightSpeed Edge" Holders
It's always a good idea to carry in your bag an extra set of runners so you never miss a shift. Check out Bauer's Tuuk Lightspeed Service and Travel Kit for a convenient storage case that will save your bag and preserve your runners.
Other Items to Consider
Similar Items
Bauer Ice Hockey Skate Accessories