Vaughn 7000 Goalie Neck Protector Sr Lg

SALE:$34.97

Lowest Price Guarantee
view large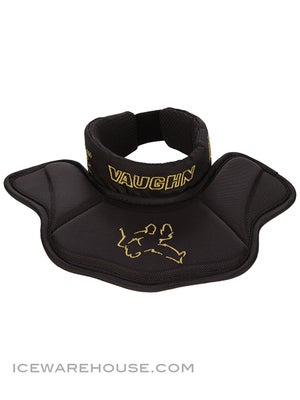 The Vaughn 7000 Neck Protector uses high density foams and poly inserts to provide BNQ certified protection. The Vaughn neck protector is segmented for increased mobility and flex while maintaining a high level of protection. The 7000 goaltender clavicle protector has a full ballistic nylon exterior for durability, mesh liner for moisture wicking, and Velcro adjustable closure including soft internal padding for comfort.
Model Number: VPC7000
Level of player: (Senior)

Roller: Professional
Ice: Professional

Vaughn Sizing Guidelines:

Size // Neck circumference

MD // 12" - 14"
LG // 13.5" - 15.5"
Construction:

BNQ certified
Ballistic nylon exterior shell
Mesh liner

Wicks moisture
Adds comfort

Protection:

Dual density neck collar design

Medium density / low density foams

Extended collarbone wings

Segmented medium density foams
plastic inserts
Provides additional shot dispersal

Fit:

Adjustable 1.5" Velcro closure

Weight:
Comments: My chest protector is a little big around the neck so after a few shots to the collarbone I decided it was time to buy this. Fits very well, is lightweight, and has two break points to form to your chest. Other than being just a little bit hotter than without, it really makes you feel safer between the pipes. In addition, the fact that it doesn't move created the illusion that my chest protector fits better, which is also very nice. Took a couple shots off it and didn't really feel a thing, even with the bruises still there from last time I played without it. Some guys use both this and a dangler, or just a dangler, but I prefer this because the dangler gets in my way. I also use it for inline where the pucks are lighter, so I'm not sure how it would hold up on ice or with harder shooters. Overall, solid protection for the money. Would recommend. Don't wait until you get hit in the collarbone before you decide to buy.
Pros:
*Adjustable fit
*Big enough to cover both collarbones and down to the breasts
*Makes everything C/A feel like it fits better
*Adequate protection
Cons:
*Reduces heat expulsion ability
*A little constricting to the head
*Adds bulk to C/A (also a pro?)
*May not be enough protection for hard shots on ice
From: Joe, PA
Other Items to Consider
Similar Items
Vaughn Hockey Goalie Throat & Neck Protectors Senior