Custom Warrior Hockey Gloves Sr-Jr-Yth

Starting at $77.47

Free Shipping!

Lowest Price Guarantee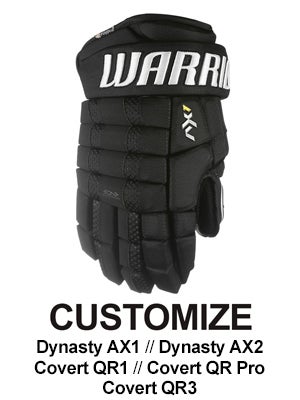 Build a pair of Custom Warrior Gloves online! You can select the colors, palms, and even put your name, and number on the gloves. Great for teams, or for building a unique and style'n personalized glove.
To get started building your custom Warrior gloves just click on the "Custom Builder" banner below.
Production time is about 14 weeks. Once packaged at Warrior your glove will be shipped ground directly to your address. This item will receive free ground shipping. This purchase amount doesn't count toward your dollar amount to earn free shipping on other items. Depending on order Warrior's order volume, lead time may decrease or increase. To ensure efficiency, Warrior and IW process orders daily(M-F). Production begins after the order has been confirmed and paid for. Only available for shipments in the contiguous U.S.
There are no discounts, returns, or exchanges on custom Warrior products.
Pricing:
Dynasty AX1 -Starting at $197.47 Sr
Dynasty AX2 - Starting at $117.47 Jr, $137.47 Sr
Covert QR1 - Starting at $77.47 yth, $147.47 Jr, $207.47 Sr
Covert QR Pro - Starting at $127.47 Jr, $147.47 Sr
Covert QR3 - Starting at $97.47 Jr, $117.47 Sr
Comments:
From:
Comments: Purchased a pair of custom franchises and have had zero regrets with parting with the cash. These are a pricey pair of mitts but they are extremely well made, extremely comfortable, and have that classic volume fit, 4 roll feel to them. Used to wear bauer 4 rolls in a 13" and the warrior 13" wide feels quite a bit larger, however I did adjust as I wore my bauers a little tight. The wrist mobility is great and barring a baseball swing at your hands the protection is more than enough. Dealing with Warrior was extremely easy and the delivery was as promised.
From: Dave
Comments: Customer service was great, finally placed a custom order through IW over the holiday, was contacted by Joe at Warrior and told to expect an 8 week delay for the holiday backup. To my surprise I received them after only about 6 weeks, and Joe hooked it up big time with a few style choices that you can't find on the customizer. The gloves themselves are great (obviously) and are basically whatever you make them to be. I opted for my favorite colors, number, pro-pack, etc so of course they look great and feel great to me. The fit is about what you expect a 4-roll to be, and the quality of the materials and overall product are awesome. You can't go wrong with gloves you design yourself right?
From: James, MD
Custom Warrior Glove Builder
Other Items to Consider
Warrior Covert Hockey Gloves Sr
Tapered Fit

Custom Warrior Hockey Gloves Sr-Jr-Yth

Build a pair of Custom Warrior Gloves online! You can select the colors, palms, and even put your name, and number on the gloves. Great for teams, or for building a unique and style'n personalized glove.

Choose from 5 models - Dynasty AX1 / Dynasty AX2 / Covert QR1 / Covert QR Pro / Covert QR3