How to Size a Figure Skate
The general rule of thumb is 1.5 sizes down from your shoe size. Since shoe sizing can vary from brand to brand, it's best to measure your feet in the following manner. To get started, you will need a hard surface to stand on, a piece of blank paper, a pen or a pencil and a soft tape measurer. If you do not have a soft tape measurer, you can use a standard ruler and a piece of string instead.
Place the paper on a hard surface so that the paper sits squarely against the wall.
If you wear skate socks, you will now need to put them on to get the most accurate measurement. Step onto the paper, placing the heel of your foot gently against the wall.
Using the pen or pencil, mark a straight line at the end of your longest toe on the paper. If you are shopping for recreational, non-leather boots, skip to step #5.
For leather boot figure skates only, measure, in inches, the circumference of the widest part of the same foot. This should typically be at the ball of the foot. This can be done with a soft tape measurer or a piece of string. If you are using a string, measure the circumference of your foot at the widest part like before but then lay the string out on the paper to measure it with your ruler. This is your foot's circumference measurement.
Now measure, in inches, the distance from the end of the paper from where you heel was, to the mark you made for your longest toe. This is your length measurement.
Repeat Steps 1-5 for your other foot on the back of a blank side of paper so you will end up with a length and circumference measurement for both feet.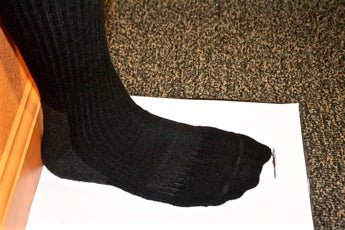 Now that you have both length and circumference measurements for both feet, it is time to find your size! Take your longest foot length measurement and find the closest matching length measurement on the Size Chart below. This is will show you both men's and women's skate size equivalents, choose accordingly. For those who are purchasing a leather boot, use your largest foot circumference measurement from Step #4 and match it to the closest skate width measurement that is listed below your skate size. If you are in-between two skate widths, selecting the more narrow option will offer more of a performance fit while selecting the wider option gives you more of a leisurely fit. If you are having trouble finding your size measurements, contact us at 800.366.3070 or info@icewarehouse.com.
NOTE: Skate sizing is personal preference and these fit charts DO NOT GUARANTEE FIT. Do not heat, bake, sharpen or skate until you are sure you will not need to return or exchange your purchase.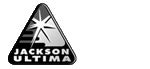 Length
8 5/8"
8 13/16"
9"
9 1/8"
9 5/16"
9 7/16"
9 5/8"
9 3/4"
9 15/16"
10 1/8"
10 1/4"
Mens' Size
2 1/2
3
3 1/2
4
4 1/2
5
5 1/2
6
6 1/2
7
7 1/2
Ladies' Size
4
4 1/2
5
5 1/2
6
6 1/2
7
7 1/2
8
8 1/2
9
Width
Mens'
Ladies'
AA
7 5/16
7 7/16
7 9/16
7 11/16
7 13/16
7 15/16
8 1/16
8 3/16
8 5/16
8 7/16
8 9/16
A
7 1/2
7 5/8
7 3/4
7 7/8
8
8 1/8
8 1/4
8 3/8
8 1/2
8 5/8
8 3/4
N
B
7 11/16
7 13/16
7 15/16
8 1/16
8 3/16
8 5/16
8 7/16
8 9/16
8 11/16
8 13/16
8 15/16
M
C
8 1/16
8 3/16
8 5/16
8 7/16
8 9/16
8 11/16
8 13/16
8 15/16
9 1/16
9 3/16
9 5/16
W
D
8 1/4
8 3/8
8 1/2
8 5/8
8 3/4
8 7/8
9
9 1/8
9 1/4
9 3/8
9 1/2
Length
10 7/16"
10 9/16"
10 3/4"
10 15/16"
11 1/16"
11 1/4"
11 3/8"
11 9/16"
11 11/16"
11 7/8"
12"
Mens' Size
8
8 1/2
9
9 1/2
10
10 1/2
11
11 1/2
12
12 1/2
13
Ladies' Size
9 1/2
10
10 1/2
11
11 1/2
12
12 1/2
13
13 1/2
14
14 1/2
Width
Mens'
Ladies'
AA
8 11/16
8 13/16
N/A
N/A
N/A
N/A
N/A
N/A
N/A
N/A
N/A
A
8 7/8
9
9 1/8
9 1/4
N/A
N/A
N/A
N/A
N/A
N/A
N/A
N
B
9 1/16
9 3/16
9 5/16
9 7/16
9 9/16
9 11/16
9 13/16
9 15/16
10 1/16
10 3/16
10 5/16
M
C
9 7/16
9 9/16
9 11/16
9 13/16
9 15/16
10 1/16
10 3/16
10 5/16
10 7/16
10 9/16
10 11/16
W
D
9 5/8
9 3/4
9 7/8
10
10 1/8
10 1/4
10 3/8
10 1/2
10 5/8
10 3/4
10 7/8
| | | | | | | | | | | | | |
| --- | --- | --- | --- | --- | --- | --- | --- | --- | --- | --- | --- | --- |
| Length | 6 11/16" | 6 7/8" | 7" | 7 3/16" | 7 3/8" | 7 1/2" | 7 11/16" | 7 13/16" | 8" | 8 3/16" | 8 5/16" | 8 1/2" |
| Boys Size | 9 1/2 | 10 | 10 1/2 | 11 | 11 1/2 | 12 | 12 1/2 | 13 | 13 1/2 | 1 | 1 1/2 | 2 |
| Girls Size | 11 | 11 1/2 | 12 | 12 1/2 | 13 | 13 1/2 | 1 | 1 1/2 | 2 | 2 1/2 | 3 | 3 1/2 |
| Width | | | | | | | | | | | | |
| | | | | | | | | | | | | |
| AA | N/A | N/A | N/A | N/A | N/A | N/A | 6 9/16 | 6 11/16 | 6 13/16 | 6 15/16 | 7 1/16 | 7 3/16 |
| | | | | | | | | | | | | |
| A | N/A | N/A | N/A | N/A | N/A | N/A | 6 3/4 | 6 7/8 | 7 | 7 1/8 | 7 1/4 | 7 3/4 |
| | | | | | | | | | | | | |
| B | 6 3/16 | 6 5/16 | 6 7/16 | 6 9/16 | 6 11/16 | 6 13/16 | 6 15/16 | 7 1/16 | 7 3/16 | 7 5/16 | 7 7/16 | 7 9/16 |
| | | | | | | | | | | | | |
| C | 6 9/16 | 6 11/16 | 6 13/16 | 6 15/16 | 7 1/16 | 7 3/16 | 7 5/16 | 7 7/16 | 7 9/16 | 7 11/16 | 7 13/16 | 7 15/16 |
| | | | | | | | | | | | | |
| D | N/A | N/A | N/A | N/A | N/A | N/A | 7 1/2 | 7 5/8 | 7 3/4 | 7 7/8 | 8 | 8 1/8 |
TOTS - Girls'
Size
8
9
10
Length
5 3/4
6 1/16
6 3/8
TOTS - Boys'
Size
8
9
10
Length
6 3/16
6 9/16
6 7/8
| | | | |
| --- | --- | --- | --- |
| | Text Document | | Video |