IW Hockey is here to ensure you have all the information you need to make the right purchase for your game. Whether you are looking for help choosing the perfect size, selecting the appropriate level gear, or improving your skills, IW Hockey has the tools you need.
The information below is to be used as a guideline only and
DOES NOT guarantee fit. The chart is not specific to any item or brand.
Should an item have sizing guidelines provided by the manufacturer, they will be provided for you within the product description next to that item. In other words, if sizing guidelines are seen with the product description online, DO NOT reference the general guideline below.
Goalie Leg Pad Diagram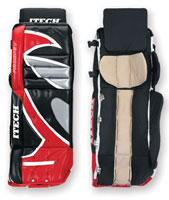 Measuring Guide

Size & Fit Guide
Always fit goal pads while wearing skates. Kneel down into each pad making sure the kneecap is in the middle of the knee roll.
After securing all the straps, the pad should extend from the toe of the skate to approximately 4" above the knee.
| | | | |
| --- | --- | --- | --- |
| Size | Youth | Junior/Intermediate | Senior |
| Pad Size (Inches) | 22-24 | 26,28,30 | 32,33,34,35,36 |
Still have questions? Please call 800-366-3070 or email info@icewarehouse.com
| | | | |
| --- | --- | --- | --- |
| | Text Document | | Video |