IW Hockey is here to ensure you have all the information you need to make the right purchase for your game. Whether you are looking for help choosing the perfect size, selecting the appropriate level gear, or improving your skills, IW Hockey has the tools you need.
When choosing a hockey stick it is really important to make sure you make the choice of length and flex. If you have a stick that is too stiff with too high of a flex rating you will not be able flex the stick enough. If this is the case you will not get all the benefits out of the stick and not be able to shoot as hard and might have troubles lifting the puck. If you have too soft of a stick you will likely break it because it was not stiff enough.
The information below is to be used as a guideline only and
DOES NOT guarantee fit. The chart is not specific to any item or brand.
Should an item have sizing guidelines provided by the manufacturer, they will be provided for you within the product description next to that item. In other words, if sizing guidelines are seen with the product description online, DO NOT reference the general guideline below.
Stick Diagram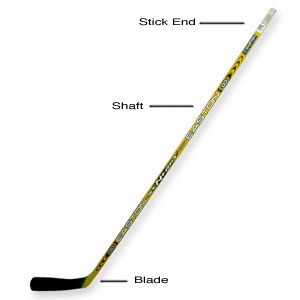 Size & Fit Guide
To determine the correct stick size, first stand stick on end. The end of the stick should touch the tip of your nose.
The stick can be cut to achieve your perfect length.
With your skates on the stick should come up to the bottom of your chin.
Still have questions? Please call 800-366-3070 or email info@icewarehouse.com
| | | | |
| --- | --- | --- | --- |
| | Text Document | | Video |