Renfrew Pro Blade Friction Hockey Stick Tape 3/4 in

PRICE: $2.47

Lowest Price Guarantee
view large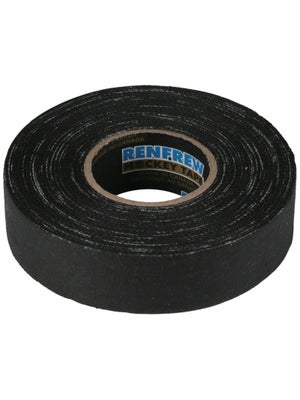 Renfrew Pro Blade Friction Hockey Stick Tape 3/4 inch is black stick tape with added grip for improved vibration absorption and puck handling. Renfrew superior PRO-GRADE™ technology.
This thick woven cotton cloth tape has a consistent adhesive coating that creates a moisture barrier between the ice and stick, which results in better adhesion and longer lasting product. Provides a high level of performance that serious players expect.
Model Number: 152203
Measurement: 1 roll = 3/4" W x 20 yards L (19mm x 18m)


Product Note: inner core color is changing from black to green but actual tape is exactly the same.
Cloth blade tape
Added tackiness for increased puck control
Thicker cloth tape
Tacky feel
Increase vibration absorption
Protects your stick blade
Comments: Solid friction tape that does what you expect it to. It goes onto your stick blade easily and provides a nice tacky grip that can aid in stick handling, passing, and shooting. It's durable and lasts quite awhile depending on your use and how hard you are on it. It can hold onto moisture and ice but nothing that would be a real problem while playing. I wouldn't use it on the butt end of the stick personally as it will stain your palms and wear them away pretty quickly I'd figure. They work great on the blade end though and is worth using.
From: Steve
Comments: After finding friction tape, I haven't gone back to wax. After finding Renfrew, I won't buy any other brand if I have the choice, it grips yet is easy to deploy. **Blade** The tape usually lasts me 2-3 (adult rec league) games, especially if you throw a piece on the bottom of the blade, running the length of the blade to take the extra wear. Unlike wax, it provides no moisture resistance, so the very bottom of your blade will lose a little of the added grip over the course of a game, but I'm not good enough for that to matter, and it doesn't accumulate a ton of ice either. It's much easier and cleaner than using wax. I keep mine in a sandwich bag, because otherwise it will pick up dirt and lint. Like most tapes with excessive adhesive, the edges fray pretty easily and leave dingleberries (for lack of a better way of describing it) but this tape like the cloth Renfrew tape peels easily yet holds. ** Butt End ** If you really want to hold on to your stick, wrap the butt end with this, it will cut down on you dropping your stick, even when poke- checking around someone. It will destroy the palm of your gloves in about 2 weeks, and you have a tape mark on your hand even after showering, but you won't drop it. You'll only need to tape the butt end once per stick; the stick will wear out before the tape does.
From: Damon, MO
Other Items to Consider
Similar Items
Renfrew Hockey Stick Tapes