SuperFeet Synergizer Insoles Blue

PRICE: $49.95

Lowest Price Guarantee
view large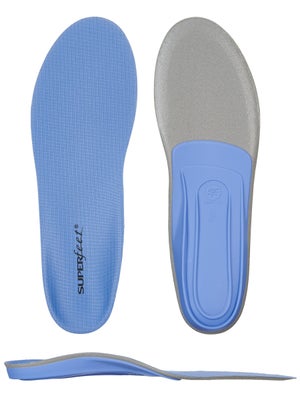 Footbeds are like mattresses. A good mattress is made of firm, supportive materials. A bad mattress is soft and unsupportive. Same thing with footbeds. When you stand on a Superfeet™ footbed, you can feel the firmly supportive shape and materials. It's not soft and cushy like the other brands or like the footbeds that come with most skates... because although soft, cushy non-supportive footbeds feel good when you first put them in your skates, in the long run they simply lead to more aches and pains.
With Superfeet™ footbeds in your skates, your feet are being consistently balanced and supported, improving the fit of your skates. Instead of your feet collapsing inward and stressing the surrounding muscles, joints and ligaments leading to a pain and poor skating techniques. The more precise fit you have, the more precision of a skater you will be. Your skates will be more responsive.
Click on 'Specs' tab above for more details.
Comfort Guarantee: 60-day satisfaction guarantee or your money back! See box for details. Excludes shipping cost.
Sizing:
Rear-Foot Control Point
Only Superfeet™ provides this feature to control over-pronation, thus helping keep your foot correctly aligned in the skate. Result: skate fits better and less stress on muscles and joints.
Mid-Foot Control Point
Another Superfeet™ original. This area stabilizes the mid-foot. Combined with Rear-Foot Control Point, this enables you to use your skeletal strength to your advantage. Result: a very stable foot, creating less muscle fatigue and more endurance.
Patented Support Bridge
This feature activates all the control points for better balance and alignment during the stride. An essential feature exclusive to Superfeet.™.
Long-Wearing TrocellenTM Foam
We use only high-quality, durable closed-cell foam. Result: long-lasting comfort.
Natural Shock Absorption System
Only Superfeet™ uses this three-part system to naturally soften heel shock. This includes:

(a) deep heel pocket to center fat pad
(b) slight rocker bottom to allow for some foot roll
(c) soft flange to allow for some soft tissue expansion.
Holofiber™ Top Cover Significantly reduces friction and heat inside the skate. Result: less moisture, blistering and bacteria.
Patented Shape
Contours to your natural foot shape, which helps provide maximum contact with the ground. Result: a confident feeling of balance and control.
Comments:
From:
Comments: I have gone through more insoles lately trying to deal with the foot cramping I have had in all of my skates. Other insoles have helped, but I put these in my ice figure skates and the relief was amazing. No cramping, no stopping to re-lace my skates to alleviate the pressure. These are awesome!
From: ??
Comments:I have been using Superfeet for years at the suggestion of my chiroptractor. They have helped very much with my back,leg and foot pain. I would recommend them to anyone having back problems or foot problems, or just someone who spends a lot of time on their feet.
From: Frances, San Luis Obispom, California 10/17/06 Thanks Mom
Comments: These insoles work great. My skates were fitting a little tight in the forefoot, now they fit perfectly. I stopped getting cramps in my feet. Thanks!
From: ??